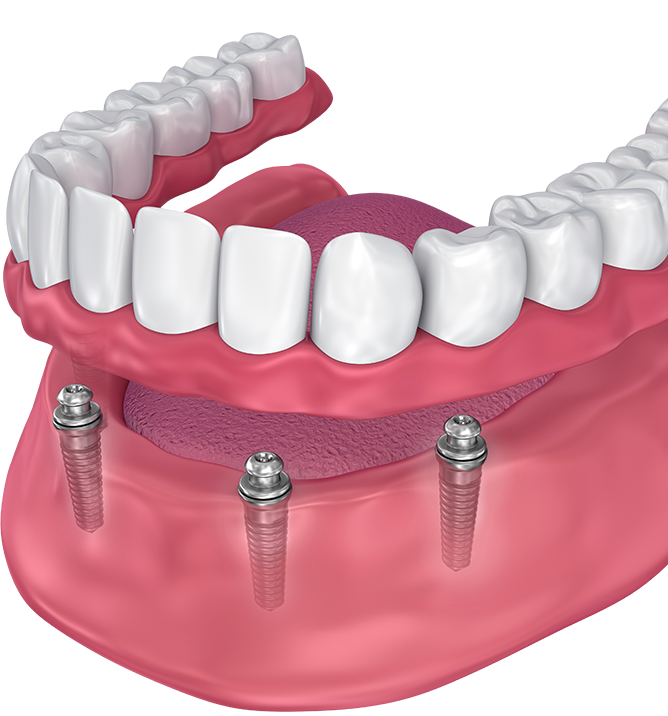 Missing teeth can make everyday tasks like eating and speaking difficult. Left untreated, tooth loss can also lead to serious health issues.
All-on-4® dental implants can restore the smiles of qualifying patients faster than traditional implant procedures.
Dr. Steve Ollason and the team at New Mexico Smile Center in Albuquerque, NM, can rebuild your smile with All-on-4 dental implants...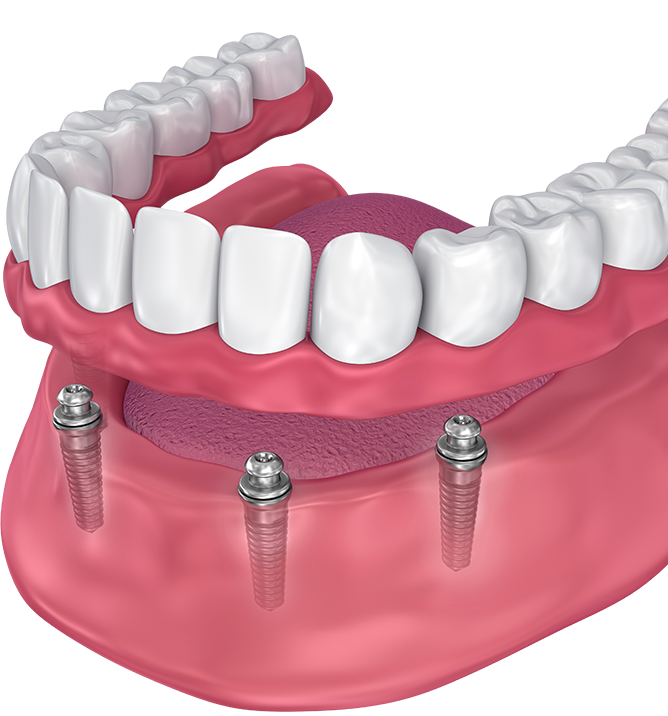 The Restorative Power
of All-on-4 Dental Implants
If you are missing most or all of your natural teeth, an implant-supported denture offers an unrivaled level of stability and strength. However, for patients who have lived with missing teeth for some time, there may not be enough tissue in their jaw to support traditional implants due to bone loss.
All-on-4 dental implants can restore an entire arch of missing teeth using just four precisely placed dental implants, even if you have suffered some bone atrophy following tooth loss. Once the dentist has placed the implants, they are usually capable of supporting a full-arch denture right away. Dr. Steve Ollason offers this advanced dental implant treatment concept at our Albuquerque, NM, dental practice to patients who would otherwise require bone grafting and a treatment timeline of up to a year.
All-on-4 is a unique method of implant placement that uses two vertical and two angled implants to support a full upper or lower denture. A denture traditionally needs six to eight implants. But by placing the posterior devices at an angle, All-on-4 maximizes implant contact with the jaw for outstanding denture stability. This less invasive treatment method has a 10-year success rate of 94.8 percent.
"Absolutely Fantastic!"
5 Star Google Reviews
Dr Ollason is absolutely fantastic! Very personable with kids and adults alike and the best dentist I've ever been to. His staff is friendly and my family and I look forward to our dental appointments.
View On Google
I have been going to Dr. Ollason for a few years and he is absolutely wonderful! He is so caring and gentle. He always listens with empathy and really wants to help his patients. His staff is great too! They are all very knowledgeable and helpful!
View On Google
Rebuild Your Smile

With All-on-4 Dental Implants
​If you are looking for the best available solution for extensive tooth loss, All-on-4 may be right for you. Our team of compassionate dental professionals understands how difficult it is to deal with a compromised smile. We make every effort to provide patients who visit our Albuquerque dentistry practice with the individualized care needed to restore optimal oral health. Dr. Ollason and his team love helping patients improve their lives through dentistry, and we look forward to meeting your needs. Se habla Español. To schedule a consultation or to learn more about your treatment options, contact our Albuquerque, NM, dentist office online or call:
"Feel Like I am Family"
More 5-Star Google Reviews
Wonderful experience with the doctor and all the staff everybody is friendly helpful and encouraging
View On Google
Helpful, friendly staff makes me feel like I am family. Hygentists and dentist show genuine concern for my comfort and well being while under their care.
View On Google
Dentures supported by All-on-4 implants are often an excellent option for those who lack sufficient bone density for traditional implant placement techniques. However, All-on-4 is not right for everyone. Our dentist will review your medical history to ensure that you are in good overall health and that no medical conditions could increase the risks associated with oral surgery.
Other factors that patients of our Albuquerque, NM, dentistry practice should consider before moving forward with All-on-4 include:
Extensive Tooth Loss
Implant-supported dentures are designed to benefit those who are missing most if not all of their natural teeth.
Healthy Gums
Periodontal disease significantly impacts the health and strength of your smile. It must be treated before our dentist can proceed with All-on-4.
No Smoking
Smoking has a negative effect on your body's ability to heal and can increase your risk of experiencing implant failure. Smokers will need to quit months before surgery and should plan to drop the habit for good.
Budget
All-on-4 dental implants are truly life-changing for patients with missing teeth. However, they are a significant financial investment as well. Patients interested in All-on-4 should be prepared to pay several thousand dollars out-of-pocket.
All-on-4 Treatment
Can Provide Teeth in a Day
Qualifying patients can have a temporary denture placed the same day as surgery.