Patients who are missing teeth can restore their smile with dental implants at our Albuquerque, NM, dental practice. These small posts are inserted into the jaw to replace missing teeth roots and provide support for a number of restorations. Dental implant surgery takes place in two parts: the initial placement of the implant and placing the final restoration after the osseointegration process. Dr. Steve Ollason is trained in dental implantology and can perform all aspects of the treatment process at New Mexico Smile Center.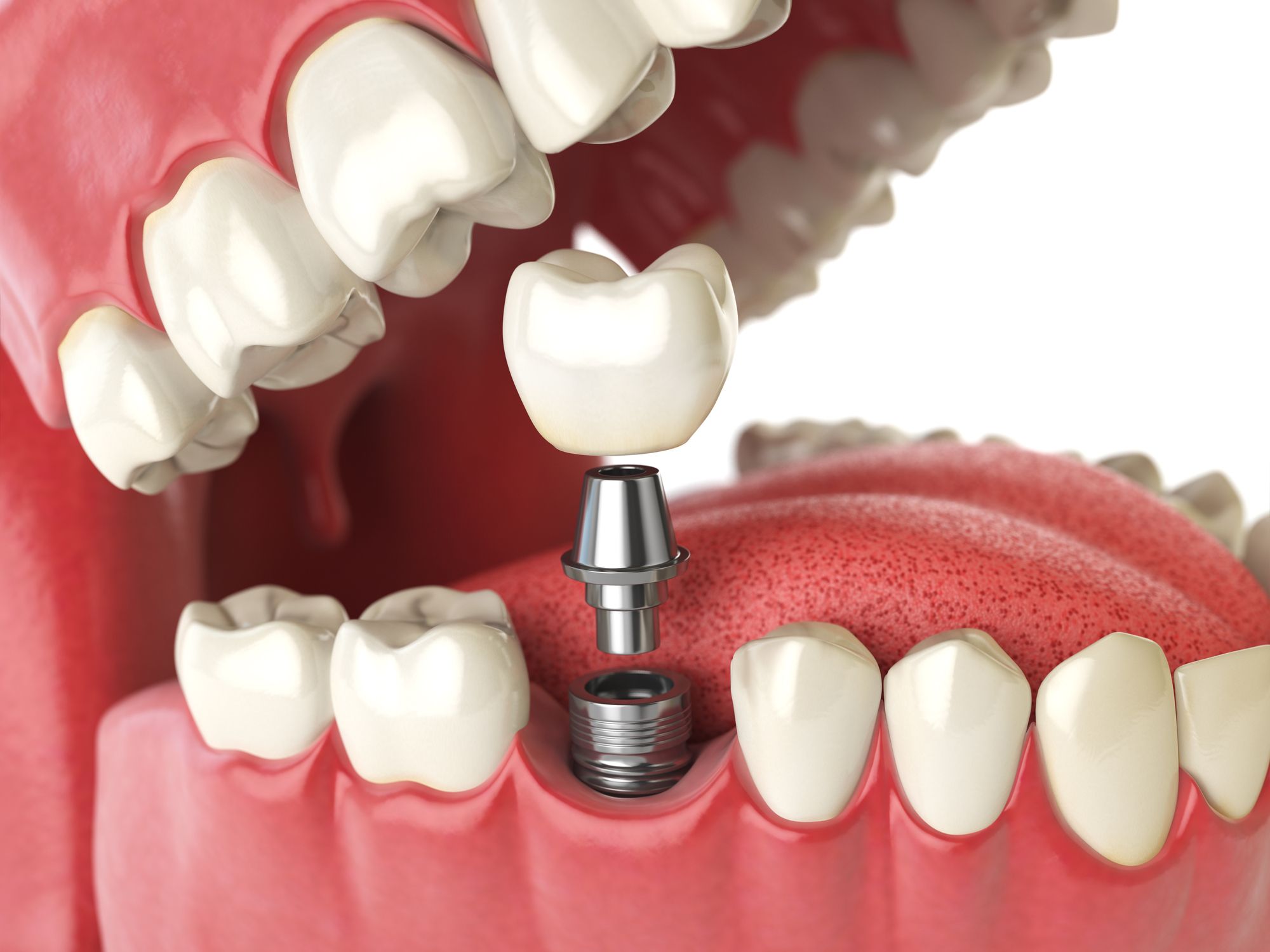 Determining Your Candidacy
Before recommending surgery, Dr. Ollason will determine if dental implants are right for you. He will examine your smile and take scans or x-rays to assess your jaw, gums, and sinuses.
If you do not have sufficient bone density or have some other oral health issue, you may need a bone graft, sinus, lift, or other preparatory procedure before implant surgery. We provide a full range of dental services, so you can undergo all stages of preparation and treatment at our office.
What to Expect during Surgery
The first phase of dental implant treatment can be completed in about an hour at our office. General steps during this process include:
Anesthesia: To begin the procedure, Dr. Ollason administers local anesthesia to numb the gums and make you comfortable during treatment.
Incisions: Next, a small incision is created in the gums to access the underlying jawbone.
Preparing the site: Using a special set of instruments, Dr. Ollason makes a pilot hole in the bone. Next, he gradually increases the implant site to the appropriate depth and diameter.
Placing the implant: Once the bone is prepared, the implant post is carefully threaded into place. A small healing cap is then placed to protect the internal surfaces of the implant from bacteria and debris.
Completing the surgery: When everything is in place, the incision is closed with surgical sutures.
Immediate Healing
Immediately following dental implant surgery, patients can expect some degree of discomfort and swelling. These side effects can be managed effectively with over-the-counter pain relievers, such as ibuprofen or naproxen.
Although patients are typically comfortable within a week after dental implant surgery, it still takes several months for full healing to take place.
Other common post-operative side effects may include minor bruising and slight bleeding from the surgical site. These symptoms are not a cause for concern and will diminish within the first few days. You will be given a comprehensive list of post-treatment instructions which should be followed closely to ensure a comfortable, successful recovery.
Final Steps
Although patients are typically comfortable within a week after dental implant surgery, it still takes several months for full healing to take place. Before the final restoration can be added, the implant post must fuse with the natural bone tissue through a process known as osseointegration.
In most cases, full integration occurs about four to six months after implant placement. We will monitor your healing until you are ready to receive your permanent restoration. Dr. Ollason can attach a small connector, known as an abutment, and your final crown, bridge, or denture for a fully restored smile.
Learn More about Dental Implant Surgery
If you have gaps in your smile, dental implants could replace missing teeth and restore health, function, and aesthetics. To learn more about dental implant surgery, schedule a consultation at New Mexico Smile Center in Albuquerque. Call our office at (505) 275-1663 or contact us online anytime.