Enhance Your Appearance
with a Smile Makeover
Patients looking to reinvent the appearance of their smile can combine multiple cosmetic procedures into a comprehensive smile makeover at our Albuquerque, NM, practice. This treatment is completely customizable to fit your aesthetic goals and preferences. Whether you desire a brighter smile, straighter teeth, or a more uniform appearance, Dr. Steve Ollason can design a smile makeover that delivers. At New Mexico Smile Center, we accept CareCredit® and Capital One Healthcare Financing to help our patients afford the radiant smiles they deserve.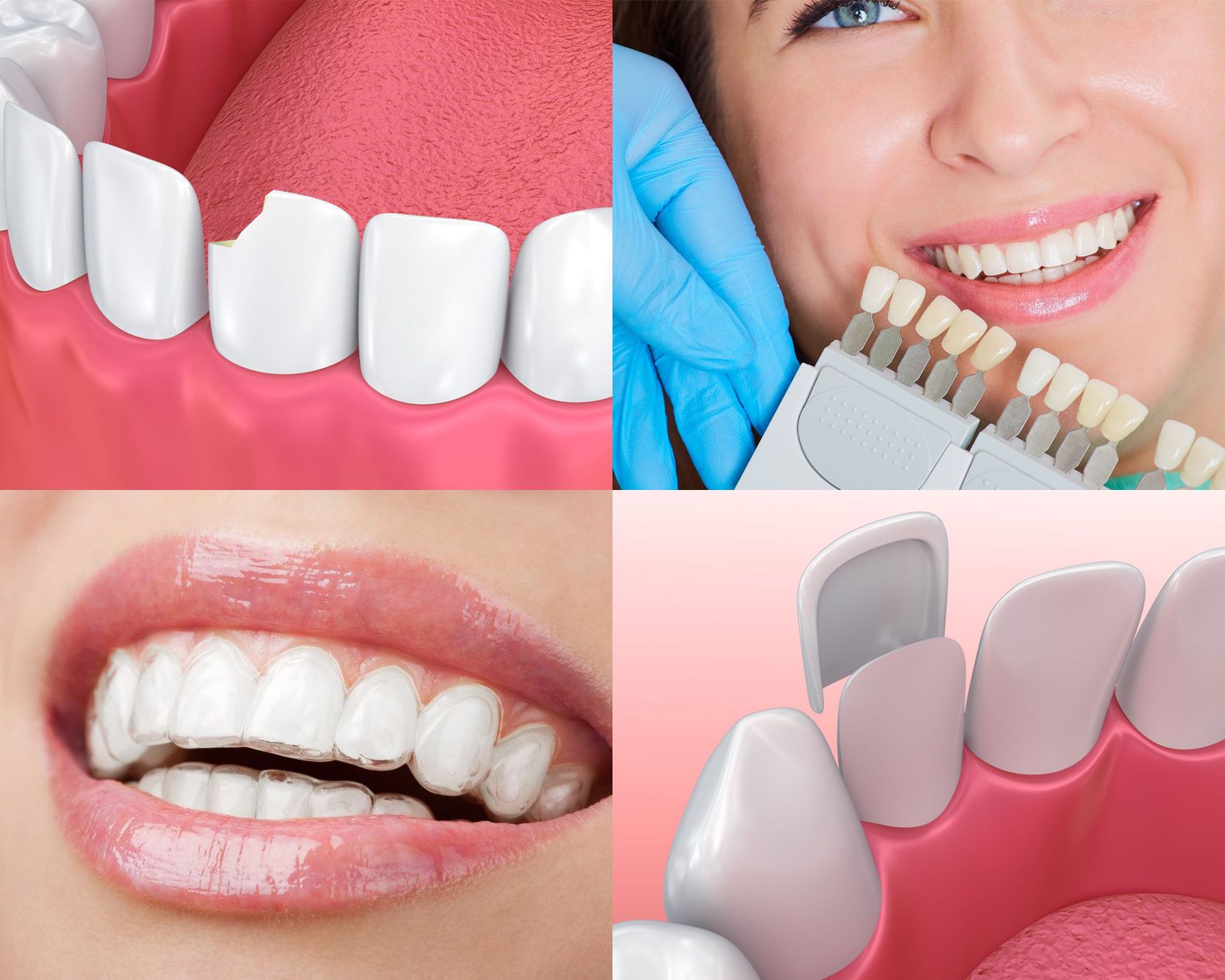 Commonly Combined Treatments
Smile makeovers are customized treatment plans which combine multiple procedures to offer comprehensive results. We offer a range of cosmetic treatment at our practice and can identify the optimal combination for your unique needs and preferences.
Porcelain Veneers
Thin, yet incredibly strong and durable, porcelain veneers are custom-made restorations that adhere to the front surfaces of the teeth. Veneers can conceal a number of aesthetic flaws and imperfections, including:
Chips, cracks, and other types of surface damage
Tooth discoloration
Small gaps or spacing between the teeth
Misshapen teeth
Slightly misaligned teeth
Dental Bonding
Dental bonding can address many of the same concerns as porcelain veneers, such as chips, cracks, and discoloration. However, this process is less invasive than veneers, as it simply involves the application of a composite resin material. Dr. Ollason can use dental bonding to alter the shape, size, and color of your teeth for a more balanced, symmetrical appearance.
Teeth Whitening
Patients who desire a brighter smile can take advantage of professional teeth whitening, which can lighten teeth by up to eight shades. We offer both in-office procedures and take-home kits for your convenience.
Once all restorations are in place and all procedures are complete, you can enjoy the dramatic results of your smile makeover.
Invisalign
Crooked, crowded, or overlapped teeth can detract from a beautiful smile. At New Mexico Smile Center, we offer Invisalign®, a popular alternative to metal braces. This system moves your teeth gradually with a series of removable plastic trays. Discreet and comfortable, Invisalign can deliver a straighter smile in about 18 to 24 months.
Tooth-Colored Fillings and Crowns
In the past, damaged or decayed teeth had to be repaired with metal restorations. Although effective, these restorations were quite noticeable in contrast to the natural teeth. Today, we use advanced tooth-colored materials that blend in with your smile for a lifelike appearance.
The Benefits of Comprehensive Treatment
Once your restorations are in place and all procedures are complete, you can enjoy the dramatic results of your smile makeover. Depending on the procedures you choose, this treatment can offer a wide range of cosmetic and functional benefits, including:
Whiter teeth
A straighter smile
Closed gaps and spaces
A balanced, symmetrical smile
An improved bite
Enhanced function
Flexible Financing Options
At New Mexico Smile Center, we believe that cost should never be a barrier between you and the care you deserve. That is why we accept a number of payment options, including CareCredit® and Capital One Healthcare Financing, to help our patients with out-of-pocket fees.
Learn More about Smile Makeovers
If there are multiple elements of your smile you wish to improve, a smile makeover could be an excellent solution. To learn more about this comprehensive treatment, or to schedule a consultation with Dr. Ollason, contact us online or give us a call at (505) 275-1663.